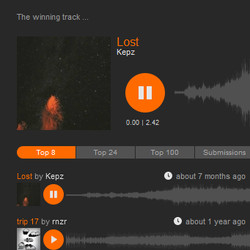 Audiotool has announced that Kepz, the winner of the Moogfest Competition for producers, gets to play live at Moogfest this Friday and runners up get released on a compilation.
In February, Moogfest invited anyone to produce a track using the free cloudbased audio workstation Audiotool and submit it to the Moogfest Competition. Over 1,200 tracks were submitted and a jury made of artists of the 2014 Moogfest lineup picked 8 winning tracks. The 1st winner gets to play a set at Moogfest in Asheville, North Carolina this coming Friday. All 8 winning tracks were mastered and produced as a cassette tape compilation which will be part of the gift bags that will be handed to all artist, press and VIPs.

Kepz, whose real name is Kyryl Polozyuk, is a producer from Sydney, Australia and he won the first place with his track "Lost". Together with the 3 runners up rnzr (Germany), Frigolito (Sweden) and Mr Standfast (USA), Kepz will be at Moogfest for the entire festival and day time program from the 23rd to the 27th of April 2014. Kepz will play live on on Friday at 5pm EST at the Moog store. He's part of a line up that includes acts like Kraftwerk 3D: 3 Concerts, Pet Shop Boys, M.I.A, Flying Lotus and Dillon Francis. The select jury panel included some of the artists from this year's lineup like Daedelus, YACHT and Bottin.

Jim DeBardi, Media and Artist Liaison at Moog Music Inc commented on the competition: "The caliber of these tracks speak not only to the range and flexibility of the Audiotool platform, but also to the diversity and creativity of Audiotool's community of artists." Moogfest is the annual festival that celebrates the innovative spirit of founder Dr. Robert Moog, an American pioneer of electronic music and inventor of the Moog synthesizer.

Since the 50s Moog Music has pioneered and developed devices that offer artists endless possibilities when it comes to creating sound. Audiotool, which started in 2008, brings together a range of retro and new school synthesizer emulations running in the browser, allowing collaboration and free access for anyone. The browserbased audio workstation is all about democratising the process of music creation and collaboration in the cloud. This partnership offers a unique opportunity to combine forces and to capitalize on the natural strengths and alignment of the two brands.

Audiotool CEO Andreas Jacobi comments: "Kepz and the other winners are the perfect ambassadors of Audiotool at Moogfest and Moogfest is the right place for Audiotool as it convenes technology and music in a unique and inspiring way."
On 1st June 2014, the next competition as part of this partnership will start and music producers from around the world will be invited to participate again.
More information: Audiotool / Moogfest Competition