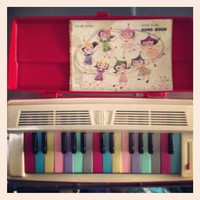 Winterpark has released Winterpark's Toy Harmonium, a free sampled instrument for Live 9.
So I recently found this funny little keyboard at Camberwell Market. It's a Toy Harmonium probably from the late 50′s or early 60′s.

I was immediately drawn to it not only because of the awesome colours on the keys, but also by the completely crazy whirring noise that it makes even before you press any keys down!

It sort of inspired me to make a sample based instrument from it. So… enter the new Ableton Live 9 which I have been playing around with.

I created this sample-based instrument using the Toy Harmonium and a bunch of the new Max for Live gadgets that are in Live 9, and also a kind of generative music type demo.
The Toy Harmonium library is a free download.
More information: Ableton / Winterpark's Toy Harmonium