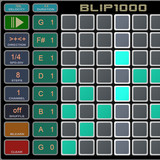 WOK has announced the release of Blip1000, a free matrix step sequencer instrument for Windows PC.
Got a windows touchscreen computer and miss these cool apps like on the iPad™ ?
Now you can generate MIDI sequences with a touch of your finger. Also great for controllers like Novations launchpad (together with Automap).

Blip1000 is a MIDI sequencer VST plugin. It plays mono- or polyphonic sequences depending on the selected notes and the enabled trigger buttons. Host sync with different speeds, swing, several play direction modes and MIDI controller learn – try it for free and start making music now!
Blip1000 features
Clear and easy interface.
Number of steps selectable (up to 8).
Note per line selectable from 3 octaves with display.
Several play modes (forward-backward, random etc.).
Syncs to host – clock divider adjustable.
Sequence transpose by MIDI input
MIDI ouput channel selectable.
Automatable in the DAW.
Sequences can be saved as VST plugin presets.
Random play.
MIDI-ouput; any plugin or synthesizer can be used as sound source.
Low on CPU.
Blip1000 is available as a free VST instrument plug-in for Windows PC. A nagscreen-free version is available upon donation.
More information: WOK