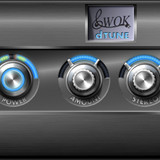 WOK has announced the release of dTUNE, a voice doubling/detuning effect plug-in for Windows.
Your favourite synth (-plugin) has only one oscillator, but you want to have some beat frequencies? Want to make a brass sound more full, fatten up vocals or drums?
dTUNE will do this by adding two detuned voices to your original signal.

Very easy to use: just set the amount of detuning, how much the 2 signals (up and down detuned) should be spread in the stereo panorama, and how much of them should be mixed to the original (stereo) signal.

This is not another chorus plugin. dTUNE doubles the incoming signal, constantly tuning one copy up and one down according to the Amount knob and mixes this to the original signal.
dTUNE is available to purchase as a VST effect plug-in for Windows PC for 9 EUR. A free version (nagscreen and no presets) can be downloaded from the WOK website.
More information: title="link to WOK website">WOK