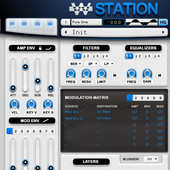 Wusik has announced the Get-Ready-For-2011 Group Buy, a limited time group buy for Wusik Station and more.
Since several users requested for another Group-Buy towards 2011, instead of the previous promo, we decided to start a new GB deal which we hope everybody will enjoy and help promoting.
Wusik Get-Ready-For-2011 Group Buy includes:
Wusik Station V6

(Windows Only – includes the new official V6 full installer plus extra sounds)

Wusik EVE V3

(Win/Mac compatible VST/AU – includes the Mellotronix and Genesis sound sets plus extras)

Wusik Station V7

(PreOrder – Mac and Windows)

Wusik Fuse Box

(PreOrder – Mac and Windows)
Additional sound banks and tools will be offered when the group buy hits 100/150/200 users. The Group Buy is available until 2 January, 2011. Maximum discount price is at 100 users: $59.95 (full) / $39.95 USD (upgrade).
More information: Wusik