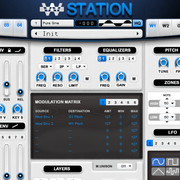 Wusik has announced the official release of Wusik Station V7, a virtual synthesizer instrument plug-in for Windows.
This time there are no new major features, only some small additions plus the big job of converting the whole code to 64 bit format. (yes, it was a big job, thank you Asseca for helping us out)

Currently the biggest change is 64 bit support. (we will still provide 32 bit versions as before) Sadly we had to drop all the Assembly code, so the new code is not greatly optimized as before, but we are still updating it where possible.
New in Wusik Station V7
64-bit native version added.
Support mono/stereo single cycle waveforms, which are automatically looped and tuned if a .WAV file does not contain loop points. The maximum length allowed for a single cycle waveform is < 0.0625 of the waveform's sample rate.
View documentation via System Menu.
Switch between CPU: C++/Vector via System Menu.
Wusik Station V7 for Windows (VST) is available to purchase for $75 USD.
More information: Wusik