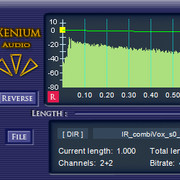 Xenium Audio has released the XR-1, a convolution processor for Windows.
XR-1 is a 32-bit Windows (XP/Win-7) VST convolution plugin for high quality reverberation. It offers zero-latency processing with low CPU-consumption and non-destructive audio processing of impulse responses. Application is launched as VST-plugin XR-1, at any VST hosts.
XR-1 features
Mono, Stereo and True Stereo support.
Easy of use and operation.
Zero latency processing.
Free non-destructive amplitude envelope.
Free non-destructive filter envelope.
Full-time IR processing.
Input IR format type:

(.WAV) – can be used any IRs.
(.IRH) – special format to adjust separately amplitude and time position for 1,2,3 and tail reflection.

Pre-delay (0ms – 2000ms).
Forward / reverse button.
Separate dry/wet control (-40db .. +20dB).
High quality, linear-phase 7-band EQ (-30db .. +30dB) with 2 scales, separately adjustment filter order and Q-factor.
Low CPU-load even with small sound-device buffers.
Manually adjustement CPU-consumption.
Manual charts adjustments.
Ultra-optimized convolution engine.
Includes access to impulse response library (currently 120 IRs, 32-bit/48kHz).
XR-1 for Windows (VST) is available to purchase for $74 USD.
More information: Xenium Audio