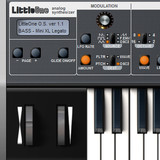 Xhun Audio has released version 1.1 of LittleOne, a faithful software emulation of a new classic: the Moog Little Phatty hardware analog synthesizer.
Changes in LittleOne v1.1
Envelope Generators: the 4-stage ADSR EGs have a faster response (this sensibly adds more "Punch" to the sound).
Improved signal path: now Velocity modulates the Filter Cutoff (editing accessible from the O.S. display, like the original Little Phatty).
Sequencer and TranceGate Host syncing: now both have the right timing.
Sequencer has a "note LED display" for each knob, making easier finding the right tuning.
Improved voice allocation.
MIDI Learn implementation, for all the controls.
Improved Cubase 5, Live, REAPER compatibility, the "crashing bug" has been fixed (see LittleOne new documentation).
Improved Multicore compatibility.
The 128-patch factory bank has been improved and new banks available, including the original Little Phatty one.
LittleOne is available to purchase as a VST instrument plug-in for Windows PC, priced at 45 EUR.
More information: Xhun Audio / LittleOne