XILS-lab has announced the release of a pre-release beta of Syn'X 2, a synthesizer instrument for Windows and Mac.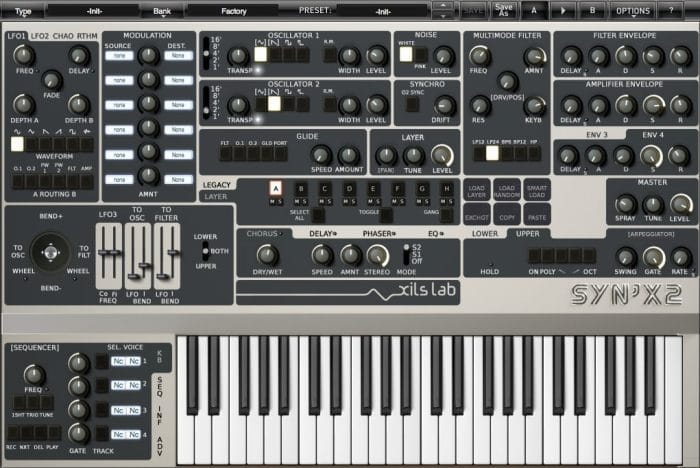 The Syn'X 2 is designed to offer a unique combination of clear and punchy DCOs (Digital Controled Oscillators) with cutting multimode analog modeled filters.

Because it's multitimbral, a user can use up to 8 different synthesizers, 16 oscillators, 8 0df Analog Filters, 32 DADSR envelopes and Modulation Matrixes addressing any of the 132 possible destinations to create their own patches.
Syn'X 2 features
Oscillators with cumulative waveforms (Up to 40 per patch).
New 0DF PWM/Hard Sync Oscillators Algorithm.
Unique (ChaoX, Rythm) LFOs with cumulative waveforms (Up to 50 per patch).
Additional D-ADSR envelopes and Modulation Matrixes (Per Layer).
Unison, 2 arpegiattors, 2 Keyboards zones, Guitar Multitimbral mode.
A Plethora of monophonic and polyphonic Play Modes.
PolySequencer (Also acting as a modulation source).
Easy Sound Creation with our unique Smart Load Technology.
Vintage sounding effects : Chorus, Phaser, Delay, Analog EQ. True Stereo Technology.
300 presets created by professional Sound Designers.
And a dual programming environment which offers you two different edit mode (Easy and Advanced).
The plugin is available for the pre-release price of 119 EUR until June 21st, 2015, after which there will be an introductory price of 127 EUR until July 21st, 2015 (regular price 169 EUR).