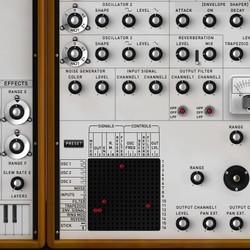 XILS-lab has released version 1.0.2 of XILS 3, a matrix style virtual modular synthesizer for Windows and Mac.
Matrix connection brings modularity and sound design to a new dimension.

More than 450 connections (audio signal, controls signal, trig signals) are available on the XILS 3, much more than any other type of modular synthesizer!
Changes in XILS 3 v1.0.2
No more plops and clicks when changing presets.
Aftertouch level didn't work correctly: fixed.
Pitch tracker snap didn't work correctly: fixed.
A more significant new version (1.1.0) with much more features is planned for release later this year.
XILS 3 will be available throughout the summer at a 25% Summer XILS 3 Promotion discount for 65 EUR / $230 USD (offer ends September 6, 2009).
More information: XILS-lab