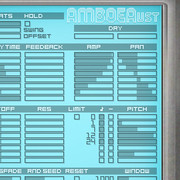 xoxos has released amboea, a delay effect plug-in for Windows.
amboea is a multitap/multidelay effect designed for ambient music. it arose from this discussion where i proposed a delay with irregularly spaced echoes. spirit described an effect that had varying synced echoes for ambient music, and this is my interpretation.
amboea features
8 stereo biquad filtered, panned integer delay lines.
Serial or parallel configuration.
Algorithmic crossfading before or after delay lines.
Windowed pitch shifting.
Randomised lfo modulation of feedback amount (optionally amp or cutoff).
amboea for Windows (VST) is available to purchase for the introductory price of $10 USD until 1 March, 2011 (regular price $15 USD).
More information: xoxos