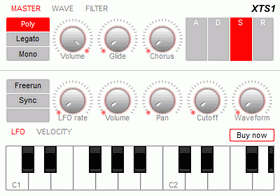 XT Software has announced the release of XTS1, a virtual synthesizer for Windows and Mac.
XTS1 is a virtual synthesizer optimized for making awesome sounds with just a few controls. Analog saw, pulse and digital phase modulation for FM-ish sounds, XTS1 can do it all.
XTS1 features
Windows/Mac OS X compatible.
32-voice virtual synthesizer.
32 presets.
3 dynamic waveforms: (1) saw to sin, (2) pulse width and (3) phase modulated.
Chorus, Noise and vibrato.
Multi-mode filter cutoff, q and drive.
Poly/legato/mono and glide mode.
Master envelope.
Filter envelope.
Waveform envelope (saw to sin, pulse width, pm amount).
Velocity: vol, pan, waveform, cutoff, filter-sustain, noise level.
LFO: vol, pan, cutoff, waveform. Freerun mode with tempo-sync.
Pitch bend.
The XTS1 VST plugin for Windows and Mac is available to purchase for $14 USD.
More information: XT Software