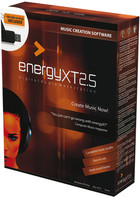 XT Software has released version 2.5.3 beta of energyXT, a digital audio workstation for Windows, Mac and Linux.
Changes in EnergyXT v2.5.3 beta
Added option to render/bounce selected parts only.
Playlist (file mapper) for loading projects by program change (see File menu).
Master Time signature track.
Soundfont support.
Improved scrollbar in part editor.
Track name not imported on some MIDI files, now fixed.
Sampler can now show more than 32 programs.
Fixed external MIDI out event bug (extra data on some drivers) on win.
Open sample in external audio editor (see process menu).
Moved sequencer program dropdown to bottom of view next to scrollbar.
Added monitor volume control in main toolbar (has no effect on render/bounce).
You can now record playing the drum pads with the mouse.
energyXT is available to purchase for 49 EUR. A demo version can be downloaded from the XT Software website.
More information: XT Software