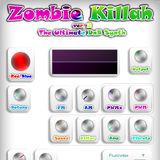 Sonic Entropy has released Zombie Killah 2, a free synthesizer instrument plug-in for Windows.
Zombie Killah 2 is THE ultimate badass synth. Most recommended for use for lead parts, especially in Drum'n'Bass, Breakbeat, Dubstep, Jungle music.
Zombie Killah 2 features
2 detuned oscillators.
1 sub bass oscillatorv
Easy and quick moduators:

One-Knob Adjustable Frequency Modulation.
One-Knob Amplitude Modulation.
Double-Knob Pulse Width Modulation.

Vibrato and Tremolo.
3-way filtering.
Host-synced BPM LFO Speeds.
All parameters automatable, but an assignable MIDI CC for LFO Speed is available if needed.
Chorus effect for stereo widening.
10 Factory Presets to get you started.
Zombie Killah 2 is available to download as a freeware VST instrument for Windows PC.
More information: Sonic Entropy