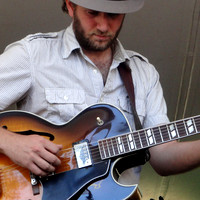 Yuvi Gerstein has released Jazzy quirky guitars, a free collection of guitar samples.
A new guitar sample pack teaser made by Yuvi Gerstein, released today. The pack includes Jazzy, funky and arpeggio guitar samples in all sorts of sounds and tempos, neatly organized into one pack. There are plenty more to come, so take this is a teaser pack.

All samples were recorded using a Gibson ES-175, a Fender Stratocaster 1978, TC Electronic Nova System Effects processor and Pro Tools 10.
Jazzy quirky guitars features
20 jazzy, funky and arpeggio guitar samples.
Files include key and tempo information, categorized in 5 bpm folders.
All samples are 88.2Khz, 24Bit, .WAVs.
The sample pack is a free download at Yuvi Gerstein.
More information: Yuvi Gerstein