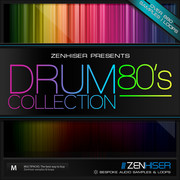 Zenhiser has announced the release of the 80's Drum Collection, a drum samples and loops library.
We love the 80's here at Zenhiser and can't get enough of the 80's sound. With this in mind it was only inevitable that an 80's multipack would be born and boy do we have an awesome multipack for you.

Over 885 80's drum samples and loops crammed into an elegant 1gb zip file of eighties sample & loop goodness. This multipack is an absolute must for all house producers and anyone into the 80's electronic drum sound, just check out the previews to hear what we are talking about.
The 80's Drum Collection is available to purchase as a download for $69 USD.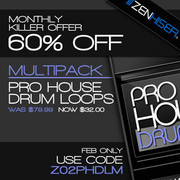 Zenhiser has also announced its "Killer Monthly Offer" for February: 60% off multipack Pro House Drum Loops, a collection of 520 essential house drum loops.
We're starting off 2011 with a fresh spin, every month through 2011 we will be discounting or giving away a free pack with your purchase, trust us these offers are going to be really good. First up for February is 60% off Mutipack – Pro House Drum Loops. Yes you heard right, 60% off, that's a saving of over $35.00 AUD.
Pro House Drum Loops is now $32 AUD (regular $79.99 AUD). Use promo code Z02OHDLM at checkout to take advantage of this offer.
More information: Zenhiser