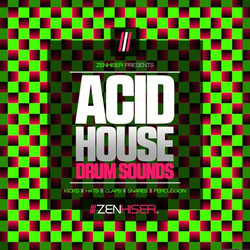 Zenhiser has launched Acid House Drum Sounds, a collection of 330+ drum sounds for Acid House music production.
Retro drum sounds are all the rage at the moment so what else could we do but bring you another storming collection of late 80's / 90's drum samples. Acid House Drum Sounds is much more than the name suggests, it covers mainly the UK Warehouse Rave scene from the late 80's Acid House phenomena through to the early 90's white dove epidemic which hit clubs and raves from London to Scotland.

Comprising of over 330 drum sounds from the classic era this is a sample pack no producer should be without. Whether you remember the Fantasia raves, Dreamscape parties or are too young to have been there this was a monumental moment in clubbing culture and we're not surprised the drum sounds are finally doing the rounds again.
The sample pack costs $25 AUD.
More information: Zenhiser / Acid House Drum Sounds