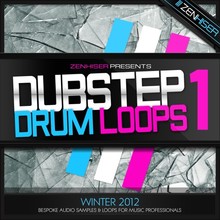 Zenhiser has introduced Dubstep Drum Loops 1, a collection of drum loops for dubstep music production.
So you're working on your new dubstep production, you need to get your dubstep drums driving but it's just not happening, well Hello, Zenhiser to the rescue! 'Dubstep Drum Loops 1' is exactly what is says on the virtual tin, an awesome array of dubstep beats ready to drop into your mix.

There's 60 dubstep drum loops in this sample pack, all with a minimum of three different versions which total's in at just under 260 dubstep beats, now that should get your wallet tingling. The mix of dubstep beats in 'Dubstep Drum Loops 1' is truly inspiring, covering Dubstep, Drumstep, Breakstep, Progressive UK Dubstep, Lovestep even Zenstep (we made that last one up).
The sample pack is available to purchase for $25 AUD.
More information: Zenhiser / Dubstep Drum Loops 1