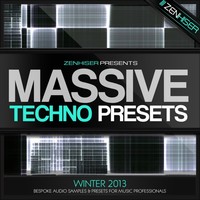 Zenhiser has announced Massive Techno Presets, a collection of 100 techno presets for the Massive software synthesizer by Native Instruments.
We're covering all the main genres with our NI Massive presets and until now Techno is one genre that desperately needed an obliterating array of uber cool presets.

With that in mind we locked our techno producer in the studio, stocked him up with Ramen noodles for a month, two pairs of his tech geek glasses and an online subscription to Music Tech Magazine. One month later and two amazing things were created in that studio, a superbly manicured sailor beard (which we didn't expect) and 100 Techno presets that simply blew us away (which we expected).
The soundset costs $25 USD.
More information: Zenhiser / Massive Techno Presets