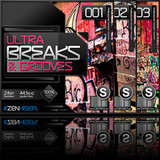 Zenhiser has released three sample packs in its new Ultra Breaks & Grooves series.
Ultra Breaks & Grooves is an absolute must have for all serious oldskool and nuskool breaks producers. 20 breakbeats, 20 basslines and 20 drum fx make up each Ultra Breaks & Grooves pack giving you optimum choices to create some awe inspiring tracks at a fantastic price. Each sample pack comes in two bpm values broadening it's scope to not only nuskool and oldskool breaks but also IDM through to that oldskool hardcore sound.

With a diverse range of breakbeats and funky breaks, twisted basslines and mind altering drum fx loops, the Ultra Breaks & Grooves series has already cemented itself into the Zenhiser shelves. This is a set of breaks and samples you really need to hear!
The Ultra Breaks & Grooves sample packs are available to purchase for $8.99 AUD each.
More information: Zenhiser