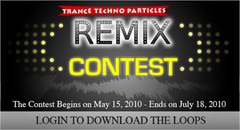 Xylote.com has announced the launch of its Trance Techno Particles remix contest.
Trance Techno Particles Remix Contest details
Download the sample pack from the page "Remix Contest 2010" by registering to "www.xylote.com"
Create your submission using any music creation software. You MUST USE at least TWO (2) samples/loops including ONE VOCAL loop from the sample pack provided. By entering the Contest, you represent and warrant that your Submission contains only sounds and samples licensed to you by third party companies, original audio material either created and recorded by you or a mix of the two options. You may enter as many Submissions as you want.
Send Your Contest Submission in MP3 format 192 kbps (max. 10 MB) to "info@xylote.com" including the following information: Name, Surname, City, Country, Age, Email Address, Website URL or social network profile (myspace, facebook, twitter, etc.)
The contest will end on July 18, 2010.
Various prizes are available, including a Lifetime Membership to Xylote.com for the 1st place winner.
More information: Xylote.com / Trance Techno Particles Remix Contest