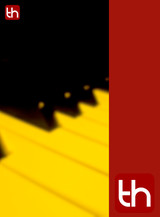 Tonehammer has announced the release of Emotional Piano, a deep-sampled library dedicated to soundtrack piano and focused on capturing the warmth, the wideness, the deep resonance and softness of a world class grand.
We've spent years searching for just the right one to capture. With ears pressed to wood and eyes hovering scant inches above strings, we tested literally hundreds of them before finding this one special piano. The sound of a piano is defined by a thousand things, from the lacquer on the wood to the hardness of the felt in the hammers. Our goal was purely sound: a soft, deeply resonant, rich, warm and soulful sound. We had no concern for brand, model, design or pedigree. We're not even going to mention the model and brand of the piano we chose for this library. Not because it is important, but because it is truly irrelevant. With all preconceived notions and expectations aside, this piano will either speak to you or it won't.

This is a big, dark, warm, lush, resonant piano. It's intended to be a scoring piano. It is a piano for epic soundtracks, not fancy dinner parties. This piano wears a helmet flak jacket, not a tuxedo with tails. This piano is a door gunner, not a dancer. This piano doesn't retire to the New England countryside triumphantly after an extended run at the Met. It's buried 6 feet under in the middle of a Chicago downpour after being gunned down by the mob. If you ever find yourself storming a beach in slow motion or charging into a burning building to save a baby, then this is the piano that will play when your final credits roll. If you find yourself wearing a powdered wig and leggings, then this is not your piano… unless you're also carrying a musket and you've just been ordered to fix bayonets. This piano doesn't do romantic comedies. It does love stories and, more often still, it does heartbreaks. This piano isn't for everyone or every occasion, but when we think of a piano and really hear it in our heads and hearts, this is the sound of Tonehammer.
Emotional Piano features
Warm, wide, resonating soundtrack piano
Powerful custom performance control interface:

Attack, delay, release control
Dynamics / velocity control
Pedal volume control
Dampening control
EQ control (low, mid, highs)
Convolution reverb control (includes +10 great custom convolutions)

Full and lite patches for CPU conservation
Master patches (ex. Grand Piano, Jazz Piano)
FX patches using a variety of scripting and convolutions
Ambient Piano FX patches
Convolution Reverb specific patches (ex., custom cathedral, church, regular hall studio, bunker etc)
Extensive read me (.pdf) install, patch and hint documentation
39 Instrument patches, 1800 Samples
4.8 GB installed, 2.6 GB .rar download
Sample resolution: 44.1Khz / 24Bit stereo .wav format
Format(s): Kontakt and .wav
Note: Native Instruments Full Kontakt 4 and Kontakt 4 Player compatibility
Emotional Piano is available to purchase for the introductory price of $129 USD until June 1, 2010 (regular price $149 USD).
More information: Tonehammer / Emotional Piano