Orange Tree Samples has announced Evolution Electric Guitar – Strawberry, a sampled guitar library for Native Instruments Kontakt.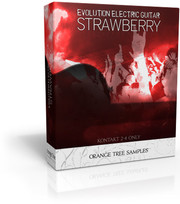 Over the years, guitar based sample libraries and virtual instruments (VSTs) have come and gone with various degrees of realism and usability. However, these tools have yet to attain a level of realism where they could convincingly be used in a professional recording in place of an actual live performance. Simulating the many articulations used in a real guitar performance (not to mention making it easy for a keyboardist to play them), complete with all of the detail and nuances that make for a believable guitar performance has been a tall task — traditional sampling techniques alone fall far short of the challenge. At best, simulating guitar strumming and lead parts using MIDI for the highest quality sample libraries has historically required time consuming and tedious hand editing. VST guitar strumming products have provided less than convincing end results due to a multitude of factors, including inferior sample quality and limitations of the included articulations. Even the most realistic sounding products to date in capable hands have fallen short of the ultimate test, fooling a real guitarist — the bar Orange Tree Samples used when creating Evolution Electric Guitar.
Evolution Electric Guitar – Strawberry features
Rhythm Guitar

Three velocity layers, including articulations such as muted strums and palm mutes.
4x intelligent round-robin sample cycling.
Includes rhythm guitar patterns with genre/style specific chord definitions, or create your own.
Detune or capo the guitar.
Fingers separately modeled for realistic chord transitions.
Instantly double the guitar with a single button.
Three pickup positions.

Lead Guitar

17 articulations, including palm mutes, squeals, tapping, trills, and special effects such as scrapes and chugs.
4x intelligent round-robin sample cycling.
A proprietary string resonation engine for organic realism you won't hear anywhere else.
Slide from one note to any other at any speed.
Intelligent legato for hammer-ons, pull-offs, and sampled half-step interval transitions.
Whammy bar effects, including the flutter effect.
Each string separately sampled with true-to-life automatic string selection.
Alternate tunings with dozens of included tuning presets.
Instantly double the guitar with a single button.
Three pickup positions.

Total file size for Evolution Electric Guitar – Strawberry exceeds 3GB. Full retail version of
KONTAKT 2, 3, or 4 is required.
Evolution Electric Guitar – Strawberry will be available to purchase May 31, 2010, priced at $199 USD with special upgrade pricing for users of previous versions of Strawberry. Its launch will coincide with a special Orange Tree Samples' group buy applying to all products with discounts up to 50% off list price.
Additional Evolution Electric Guitar makes and models, as well as Evolution Acoustic Guitar, will be released later this year.
More information: Orange Tree Samples / Evolution Electric Guitar – Strawberry