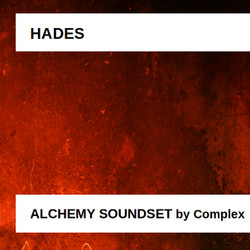 ZenSound has launched Hades, a sound library by Complex for the Alchemy sample manipulation synthesizer by Camel Audio.
Hades is our latest obscure and horrific soundset. This soundset takes sounds from the underworld, evil creatures, mechanical hybrid beasts, desolated soundscapes, scary atmospheres, tense drones, haunting keyboards, menacing choirs, satanic voices, apocalyptic science fiction effects, cinematic percussions, sequences, and powerful basses.
Hades features
128 patches using 59 new original samples.
Samples are specifically recorded for this project: rusty doors, engines, windchimes, metallic frictions, bells, electronic glitches, feedbacks and metallic percussions.
All the patches can fit well in all styles of electronic music with dark feeling, ambient and media music.
PDF with a detailed installation guide.
The sound library is available for purchase for 14 EUR.
More information: ZenSound