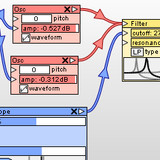 Stijn Kuipers / Zephod has released [BLOK], an easy to use modular synthesis environment for Windows.
The available processing blocks are simple and concise and there are no restrictions on how you hook things up.

[BLOK] was designed as a platform for teaching audio synthesis to students, so even beginners can get started building their own synthesizers and effects right away!
[BLOK] features
Classic synthesizer modules such as Oscillators, Filters, Envelopes and Effects.
Easy to use interface. Blok was originally created as an educational program to teach audiodesign principles. This means that each module is simple to understand.
Connect everything. There are no limits on connecting blocks together.. if a block generates a signal, connect it up!
Versatile DSP engine. Additive, Subtractive and FM synthesis are all possible. Let Blok be your synthesis swiss army-knife.
Full undo/redo. Dont like what you have done? Go back to a time when you did!
Low in cpu. Blok was made to run well even on low-end computers. On today's machines, it tears up the track! This will let you make more complicated setups and get more bang for your synthesis buck.
[BLOK] is currently available to download as in Buzz and VST plug-in formats for Windows PC (requires Visual 2008 Runtime).
More information: [BLOK]