Zero-G has released Nu Disco, a new sample pack featuring authentic retro disco and club sounds but with a modern feel.
"With Nu Disco you can pay homage to the golden ego of dance as well as taking a step in to the future to create this years unmistakable sound".

Nu Disco contains 35 construction kits with loads of additional chord progressions, drumloops, bass riffs, guitar licks and single hits. It is full of authentic retro disco and club sounds but with a modern feel and with the subtle tang of those 80's guitar licks, smooth rhodes, sizzling synths, funky basslines and a mixture of live drums for the funk and disco and also some stomping house beats.

The concept behind the construction kits is to allow you to filter and mash up the full mix as if you were sampling from vinyl but also, to give you complete flexibility, each full mix is split down into its component parts to allow you to work with individual instrument loops as well.
The sample pack is available for purchase as a download for $79.99 (ex. VAT), or as a boxed DVD for £59.95 GBP (incl. VAT)/$79.99 GBP (no VAT)/74.95 EUR (incl. VAT).
Zero-G has also launched Whoosh Designer, a Kontakt 5 instrument library by Dan Graham, who also produced Impact Designer, Animato, Spiritoso, Luminoso and Perpetuo.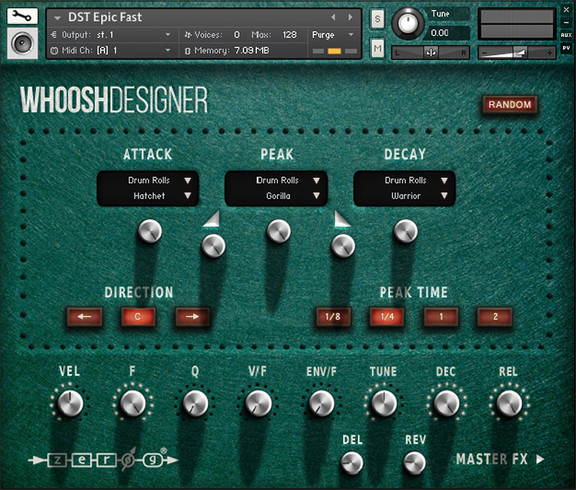 Whoosh Designer makes the best whoosh noises you will ever hear! Whooshes are short noise sounds that give an instant rush of movement, excitement, anticipation and release. Placed around an impact sound they add massive size and power. Placed under a drum fill they add an almighty rush and a powerful transition from one section to another.

Whooshes have the power to transform all sound and music into a higher dimension of drama and animation. Sound design, trailer music, epic music, film scores, EDM, hip-hop, indie, rock; whatever you are doing, adding whooshes will make your sound more exciting.

Whoosh Designer is a Kontakt Instrument that combines amazing raw sounds, incredible simplicity, a high degree of playability and a very high level of customisation. Every Whoosh is made up of 3 elements – ATTACK, PEAK and DECAY. These 3 elements are the initial attack, the intense peak of the whoosh and the long release of the sound. This Whoosh Designer instrument quickly crossfades between 3 different sounds in order to produce sonic complexity and a very wide range of possible variations.
Whoosh Designer features
740MB of sounds on DVD (or download).
768 samples (.ncw files) in total.
165 Kontakt 5 Instruments with custom Graphic Interface.
Many millions of possible variations to create unique sonic impacts.
Whoosh Desinger is available for purchase for download for $99.99 (ex. VAT), or as a boxed DVD for £69.95 GBP (incl. VAT)/$99.99 USD (no VAT)/94.95 EUR (incl. VAT). Requires full version of Kontakt version 5.3.1 or above.
More information:Zero-G