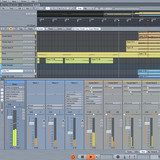 Zynewave has released version 2.41 of Podium, a music production software for Windows.
Podium is a modern production host that integrates audio recording, VST plugins and external MIDI and audio gear. An object based project structure allows for advanced media and device management.
Changes in Podium v2.41
Settings made in the "Adjust Timing" edit dialog are saved in the Podium setup file.
Fix: Auto-hiding of the menubar would sometimes not work after maximizing the project window.
Fix: The project template and track template submenus could cut off the remaining menus if there were a large number of templates.
Fix: The size of the scrollbars in the editors would under some circumstances not update correctly.
Fix: Dragging and holding a sequence event for longer than 1 second could interrupt an ongoing recording.
Fix: Using the fade-in and fade-out edit commands in the sound editor would crash when applied to a range that stretched beyond the end of the sound.
Fix: The "new arrangement as unique copy" command now preserves unique/phantom sequences and sounds within the new arrangement, instead of just converting all phantom copies to unique copies.
Podium for Windows is available to purchase for $50 USD (includes one year of free upgrades).
More information: Zynewave