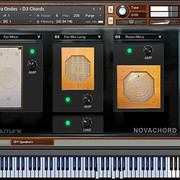 Soniccouture has announced the release of an Ondes speaker modification for Novachord, a sample library for Native Instruments Kontakt.
The dream combination? How many people have played a Novachord, one of the rarest synths of all time, through the 3 Ondes Martenot speakers? With this bonus update, you can be one of those people.

The Nova-Ondes (or Martechord, if you prefer) is a free download included with the Ondes product. If you also own Novachord, then you can install it right away and start using it. If you DON'T own both products, you won't be able to use it. In much the same way that, in real life, you'd need to own both a Novachord AND an Ondes Martenot!

The Nova-Ondes appears as an extra instrument in the Novachord Library. The update includes 25 new presets made using the new combination.
The update is available as a free download for owens of both Novachord AND Ondes.
More information: Soniccouture