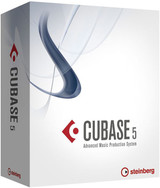 Steinberg has released version 5.5.3 of Cubase & Cubase Studio 5.5, a final maintenance update for the music production software for Windows and Mac.
The update improves the stability of both VST Bridge and CD Audio import and resolves VST time info issues with host-synced plug-ins. In addition, it removes the wet lock from REVerence if used on group or FX channels and corrects some smaller issues.
Changes in Cubase/Cubase Studio 5.5.3
VST Preset browser window refresh issues resolved.
RoomWorks / RoomWorks SE could not find their VST Presets.
Resolved VST Bridge stability issues.
Resolved issue where all MediaBay drives were scanned unintentionally on Mac OS X.
Improved Audio CD Import stability.
Resolved VST time info issue with host-synced plug-ins.
Resolved loading of VST Presets when only one preset is saved.
More information: Steinberg