FXpansion releases DCAM BusComp & DCAM ChanComp for Auria on iPad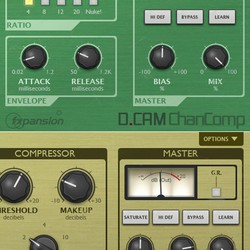 FXpansion has announced that DCAM BusComp and DCAM ChanComp are now available as optional plug-ins for Auria, WaveMachine Labs' digital multitracking app for iPad.
DCAM BusComp provides classic console-style bus compression for drum groups and mixes while DCAM ChanComp's FET limiting amplifier design is perfect as a track compressor for drums, bass and vocals.
DCAM BusComp and DCAM ChanComp are available as in-app purchases within Auria v1.11 for $14.99 USD each.