Novation updates Automap to v3.4.1
Related:
Automap
,
controller
,
firmware
,
keyboard
,
LED
,
MIDI
,
Novation
,
software
Posted in
news
on Apr 20, 2010 -
0 comments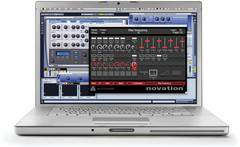 Novation has released version 3.4.1 of Automap, a software system for Novation's MIDI controllers.
Automap 3 is the latest incarnation of Novation's intelligent software system. Automap is unique to Novation's MIDI controllers, and has now been enhanced with a wealth of eagerly anticipated features. Until now Automap had focused on plug-in control, but exciting developments bring a new level of DAW control…
Changes in Automap v3.4.1
Improved MIDI data efficiency into Live.
Updated Novation USB driver to version 1.7, Windows only.
Updated Ableton Live DAW Setup Guide.
Updated SL MkII firmware to version 1.2.05.
Updated Zero SL MkII firmware to version 1.2.04.
Touch sense, encoder and button LED feedback in Live template (requires Ableton Live 8.1.3).