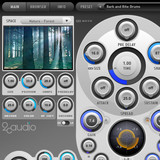 2CAudio has released version 1.5 of Aether a self-modulating algorithmic reverb effect plug-in for Windows and Mac.
We believe it is one of the best sounding reverbs on the market at any price point. Aether 1.5 represents a very significant update and offers a huge number of industry-first advances in terms of audio quality and functionality, and is designed to compete directly with the best-of-the-best in both hardware and software.

Most reasonable companies would call this a 2.0 version and make it paid update; however, we do things a little differently at 2CAudio. We enjoy going to extremes both to develop the best possible products and to take the absolute best care of our existing customers. By doing so, we develop strong customer loyalty and a rapidly expanding user-base, and we are happy to be able to consider our customers as our friends. We feel sincere customer satisfaction is more valuable than any high dollar marketing campaign, and it is our simple goal to overwhelm with greatness in all aspects of our endeavors.
New in Aether v1.5
2x & 4x Oversampling.
Double Precision 64bit DSP.
64bit Host/OS Support.
Band-limited Interpolation.
Variable Quality Modes.
Extreme Off-line Render Modes.
Proprietary Spectral Modulation.
Attack & Sustain Envelope.
Variable Q Damping Decay Curve.
Mid-Side modes.
Cascade Control.
Complex Stereo Modes.
0-Sample Latency.
Frequency Profiles.
Immediate Parameter Accessibility.
Macro Controls.
Comprehensive Preset Browser.
Instant algorithm browsing.
Flexible EQ/Filter Routing.
Huge Parameter Value Ranges.
Discrete Early Reflections engine.
Comprehensive FX Presets.
Complex & Clustered IRs.
Late Reflections Coloration.
…plus a completely new GUI, which retains the same layout as the previous version, but focuses on improvements to readability, usability, and communication of relevant parameter info such as measurement units.
Aether is available to purchase for Windows and Mac (VST/AU;RTAS coming), priced at $249.95 USD.
2CAudio has also released two expansions packs, Aether Integrity and Creativity Expansion — featuring over 300 new presets in total. These expansions for Aether 1.5 are available to purchase for $29.95 USD each, or bundled for $39.95 USD.
More information: 2CAudio