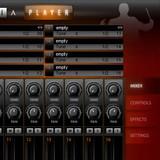 Garritan has announced the release of Jazz & Big Band 3, a virtual instrument powered by ARIA Instrument Engine.
Garritan Jazz & Big Band 3 is state-of-the-art software that reproduces the sounds of the musical instruments in a jazz and big band, right from your computer. This award-winning collection is the first library of its kind and set a new standard.

Jazz & Big Band 3 features trumpets, trombones, comprehensive 16 Saxophones collection, winds, keyboards, basses, rhythm section – over 50 individual instruments. Create realistic-sounding Jazz & Big Band arrangements quickly and easily.
New in Jazz & Big Band 3
New ARIA Advanced Instrument Engine — ARIA, a new and highly-optimized instrument engine, developed in collaboration with Plogue Art et Technologie Inc, goes beyond ordinary samplers. ARIA is intuitive, efficient and versatile, loads instruments quickly, and places very low demand on your computer's processor. The ARIA engine has been rigorously tested and is widely used in products by Microsoft, SONY, AKAI, MakeMusic (Finale) and other industry leaders.
New Price — Instant Download! — JABB 3 is affordable, eco-friendly, and available on demand. Simply download and play. The entire JABB3 sample collection can be downloaded with a fast internet connection, dramatically reducing the product's environmental impact and eliminating the waiting time associated with shipping.
Additional Sounds & Ensemble Presets — JABB 3 includes additional instruments such as organs, slap basses and harmonica. There are also extended ranges for select instruments and Ensemble Presets.
Auto Legato — JABB3's new Auto Legato intelligently detects when you are playing a smooth line with overlapping notes and automatically applies correct legato transitions between notes. Creating realistic phrasing has never been easier. Auto Legato also makes playable trills extremely easy.
Integrated Ambience Reverb & Stereo Stage — JABB3 now integrates the high quality Ambience reverb with the ARIA Player with individual mixing sends for each instrument. Stereo Stage imparts spacious stereo imagery for JABB instruments.
MIDI Playback and Recording Features -The Standalone ARIA Player allows you to load and playback MIDI files. You can also produce audio recordings of the MIDI file or record yourself playing live.
Designed for Compatibility — JABB runs on both Macintosh and Windows and a variety of formats to fit your workstation and your workflow (VST, Pro Tools RTAS, and OSX Audio Units). It supports 64-bit platforms in Windows (works in Windows 7). JABB3 is further optimized for use with the AKAI EWI Wind Controllers and integrates with popular notation programs such as Finale 2010.
Graceful & Easy Authorization — ARIA authorization employs a personalized digital keycard. Simply drag and drop the personalized graphic card onto the ARIA Instrument Engine to authorize it and get playing in seconds.
Garritan Jazz & Big Band 3 is available to purchase for PC and Mac (VST/AU/RTAS), priced at $149.95 USD. Existing users can upgrade for $49.95 USD.
More information: Garritan / Jazz & Big Band 3