8Dio Productions has announced the release of the Century Strings Bundle, a Kontakt instrument library that aims to bring realistic symphonic strings that are playable and expressive beyond words.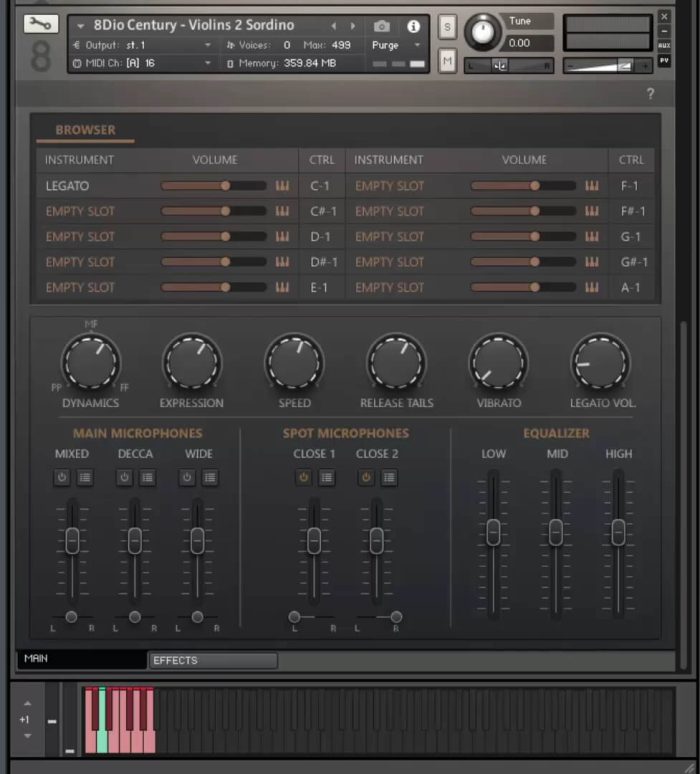 Century Orchestral Strings is available in three volumes: Traditional Ensemble Strings, Sordino (Muted) Ensemble Strings and a Bundle featuring both that saves you 30% compared to the individual volumes.
The Traditional Ensemble Strings contains five unique string ensembles, including 1st Violins (6 players), 2nd Violins (4 players), Violas (5 players), Cellos (4 players) and Basses (4 players). All the five sections contain many matching articulations, so you can freely orchestrate all the sections. The Sordino Strings also contain a similar symmetry, so everything can be used as one.

Century Orchestral Strings were recorded in a new and advanced environment that allowed us to both have wet (hall) and close (studio) sounding strings at the same time. This means you have total room control. From large, lush orchestral strings to close and intimate studio strings. Six different microphone options, including Mixed, Decca, Wide/Far and three close studio spot mics (Close 1-3).

The new user-interface binds it all together. Access the entire articulation menu with a few clicks of a mouse. As well as instant access to all microphone and articulation controls. Century is complex underneath, yet so simple and beautiful on the outside.

Century Orchestral Strings contains every single articulation you would expect – and a wealth of new and intelligently programmed patches. All legato articulations are dynamically layered and many contain full vibrato control. All arcs are also velocity based. Play soft and get a soft arc. Play harder and get a more pronounced arc. These were also recorded at different speeds, so they can elegantly wrap around your composition. Lets not forget the short notes, which were recorded so deep they may never need to be sampled again.
Century Strings Bundle features
Century Ensemble- and Sordino Strings (204.9 GB).
Complete Room Control from dry to wet.
1st Violins (6) and 2nd Violins (4),
Violas (6), Cellos (4) and Basses (4).
1st Sordino Violins (6) and 2nd (4).
Sordino Violas (5), Cellos (4) and Basses (3).
4 Hall Microphones and 3 Studio/Close Microphones.
Fluent controls over Dynamics (MW), Expression and Speed.
Full Retail version of Kontakt 5.6 or later required.
The Century Strings Bundle is available for $598 USD (30% savings over individual volumes). Until December 31st, a 60% discount voucher off your next purchase is included with a purchase (Century Brass excluded).
More information: 8Dio Productions