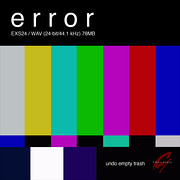 9 Soundware has announced the release of Error, a set of 31 instruments for the EXS24 sampler within Apple Logic Pro.
The theme of the sound set is glitching. These sounds are the result of misusing hardware and software to introduce distortions not usually associated with conventional signal processing.

The instruments are based on 100 samples (40 loops and 60 hits). The source sounds for the samples include audio files which were deleted and erroneously retrieved using data recovery software, a DAT machine on vari-speed mode, sounds which were processed and reprocessed with the opposite settings, a digital delay pedal, and a skipping audio CD.

In addition to the 78 MB Error.exs instrument which uses all 100 samples, included are 30 instruments which make extensive use of the modulation capabilities of the EXS24 mkII sampler. Among them are tempo synced instruments, free-form textural instruments, impact instruments, as well as tonal instruments (DCFLdd v1.3.4-1.exs), and noise instruments which allow for sample switching via the mod wheel (Datamoshing.exs). Many are designed to be played primarily with the modulation and pitch bend wheels (and less so with the keys). As they lend themselves more to performance than step sequencing, a midi controller is highly recommended when using this sound set.
Error is available for purchase for $29.99 USD.
More information: 9 Soundware