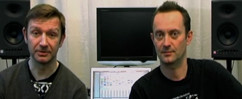 Ableton has released the Swayzak Live Pack, an exclusive, free Live Set for Ableton Live 7 or later.
"We take a fairly unstructured path to making a Live Set. Clips are grouped by type (beats, bass, percussion etc) but we don't usually split a track into stems in order to replay it. We assign key commands to mute each track plus key commands which turn the global effects on and off (on the master channel). We have two sends (reverb and delay); this provides some space and, of course, "dubbiness." It's important to really know all the sounds—we usually go through and listen to each one on solo during preparation for a gig (we also delete or transform them if they are boring).

Then it's a process of improvisation, as we build up songs using the clips. The aim is to keep the music as fluid and organic as possible—we're not trying to reproduce an existing piece of music, rather to create something new and unique in real time. Sometimes, of course, there are mistakes or rather "unintentional deviations" that take us off into new directions. Overall, it feels best when we just play without thinking too much and arrive at a point where we don't know how we got there. After all, it's supposed to be LIVE.

For all you lucky folk who have downloaded this Live Set, take time to mess around with the clips (stretch, chop, combine, resample): don't just use them as they are. Use the clip envelopes to transform the sounds, run them through plugins and resample if you like the result. Remember: Live is an extraordinarily powerful tool, so use it in as many ways as you can think of. Have fun!

Love Swayzak xxxxx"
The Swayzak Live Pack contains 2 Live Sets: "Swayset Live" and "Swayset Suite". The Suite version uses Operator, the Live version has the Operator tracks rendered as audio.
The Swayzak Live Pack is a Live project—it does NOT install into the Library, but saves into a separate folder.
More information: Ableton