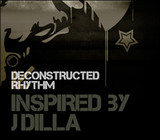 MPC-Samples has released Deconstructed Rhythm, a collection of 496 hip hop drum samples inspired by the drums of J Dilla.
J Dilla was one of the greatest hip hop producers of all time, a brilliant mind who inspired a generation of beat junkies. 'Deconstructed Rhythm' is our tribute to the drum sound and style of Dilla, featuring 496 original drum samples split over an extensive drum library and 20 ready-made MPC drum kits.
Deconstructed Rhythm features
Samples: 496 samples. Drum Library: 96 kick, 96 snare, 96 hat and 48 percussion samples. Drum Kits: 20 kits each with 8 samples per kit (20 x kicks, snares, closed hat + open hat, crash, ride, claps, shaker)
Format: Contains either SND or WAV versions of all sounds (16 bit) + PGMs for loading into all MPCs
Compatibility: MPC1000, MPC2500, MPC500, MPC5000, MPC2000XL, MPC2000, MPC4000, MPC60 (OS3.1), MPC3000 (OS3.11) Will this work with my sampler?
Download Size: 32MB
Deconstructed Rhythm is available as a direct download for 29.99 EUR.
More information: MPC-Samples