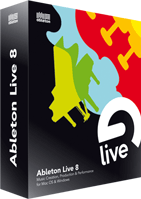 Ableton has released version 8.0.8 of Live and Ableton Suite, software for creating, producing, and performing music.
Changes from Live 8.0.5 to Live 8.0.8
Improvements:
Updated manuals
Updated Help Pages
Control Surface support for Novation Launchpad
Several improvements for the AxiomPro Controllers
Bugfixes:
Using the double/halve tempo buttons of the Looper could introduce an audible offset
Playing MIDI could crash Live when multi-core support is enabled
If the slot button below a disabled Session clip has been removed, the disabled clip would not respect this and act as stop button
In the Arranger, auto scrolling would not work properly when dragging tracks
On Mac OS X, open the application menu would not close an open context menu
On Mac OS X, using a Remote SL and loading a particular Live set with a Fab Filter Twin 2 would crash Live
On Mac OS X, the Key stroke handling for AudioUnits using Cocoa views would not work properly
On Mac OS X 10.6.x, starting Live with a template set that contains audio clips, and with another CoreAudio client running at the same time (e.g. iTunes), would freeze Live. Also, changing sample rates in Live would not work properly
Replacing a Macro mapping with a Key mapping could crash Live
Return track header selection would not work properly
On Mac OS X, Audio Units, wrapped by Novation Automap, would not appear in the right folders
Setting an MTC start offset to a negative value would not show the value properly
Grabbing and moving the left edge of an Arranger loop while the loop start is out of the view would not behave properly
In the Arranger, scrolling would not work properly when dragging or moving tracks
Under certain conditions, the LFO of the Sampler would not work properly
Switching banks via remote script would not be indicated in the status bar
Switching on track-solo would not work properly in exclusive mode when switching via the APC controller
Unsupported multi channel audio files would crash Live
When exporting an video file, the resulting video file would grow on each export instead to be replaced
On Mac OS X, when typing the name of an existing file, but without the extension, Live would overwrite the existing file without asking for confirmation
The update is now available to download for registered Live 8 and Suite 8 users.
More information: Ableton