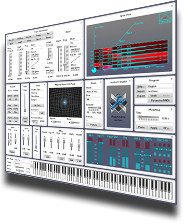 accSone has released updates for crusherX-Studio!, crusherX-Mac! and crusherX-Live! realtime granular synthesizer software.
The new versions dramatically increase the sound quality of the pitch shift algorithm by introducing state of the art sample interpolation. You can switch live back to the old harsh crusher-X sound by just pressing a button.
Changes in crusherX software
Add advanced anti aliasing algorithm to improve sound quality on pitch shifting.
Add advanced interpolation algorithm on DCOs.
Add Aliasing button in vapor panel to switch back to vintage aliasing algorithm (like in older crusher versions).
Remove vapor buffer save dialog bug: Now .WAV extension is added if WAV format is chosen.
crusherX-Mac!: AU version: Remove some wrong factory presets settings.
crusherX-Studio!: Remove the bug that parameter/MIDI control are only working on an open editor.
crusherX-Live!: Improve MIDI control performance.
The three crusherX products are currently available to purchase for 79 EUR each.
More information: accSone