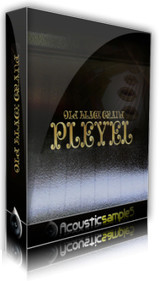 Acousticsamples has released OldBlackGrand, a virtual piano instrument for Kontakt.
Everybody keeps on sampling the best and cleanest piano ever… here is a completely different approach. We sampled an old Pleyel Grand Piano (F-71240 model from 1928) with vintage gear like a studer console and tube microphones, it has the rich and warm sound of the old jazz/blues or even classical music recordings.
OldBlackGrand features
12,89GB sample bank, no loops Recorded at 24/88,2Khz downsampled to 24/44.1khz.
9 velocity layers for the sustain.
9 velocity layers for the release.
Two microphone positions: close (inside) and rim (singer position) that you can enable/diable and mix.
Adjustable sympathetic resonance.
Thumps samples and Automatic Pedal noises samples.
True pedal action technology.
Midi panel to let you finely control the response of the instrument (velocity remapper, sensivity).
Advanced scripting capabilities for a real mechanical behaviour simulation and polyphony saving.
KONTAKT 3 and 4 (optimized for Kontakt 4).
OldBlackGrand is available to purchase for $111 USD.
More information: Acousticsamples / OldBlackGrand