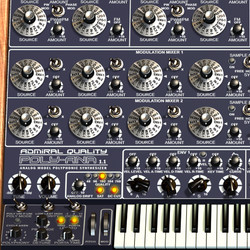 Admiral Quality has released version 1.20 beta 1 of Poly-Ana, the virtual analog synthesizer instrument for Windows and Mac.
We've finally got OSX 64 bit support in both Poly-Ana and SCAMP, as well as a new, key-file based copy protection system (so customers won't have to ask us for new or additional keys anymore). As so much has changed in these products in order to support the new platforms, we've put both BACK TO BETA to make sure they get well tested.

As we always do, during the BETA period our products are on sale for HALF PRICE! Our flagship "virtual analog" synth plug-in, Poly-Ana, is currently a mere $89.98 USD, her preset player little sister, L'il Poly-Ana is $47.98 USD, and the analog modeled, envelope following filter effect that started it all, SCAMP, is only $34.97 USD. Regular prices will resume after the 1.20 BETA period, but we don't know how long the BETAs will run for, so you'll want to try these products as soon as you can so you don't miss your chance at these rare deals.
Poly-Ana is available for purchase for $89.98 USD during the beta period.
More information: Admiral Quality / Poly-Ana