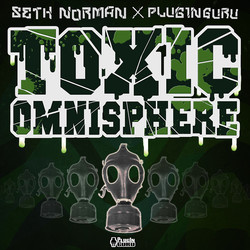 PlugInGuru has launched Toxic Omnisphere, a sound library for Spectrasonics Omnisphere featuring cutting edge EDM patches by Seth Norman.
TOXIC Omnisphere takes the concept of BOLD, "In Your Face" synth patches where the MOD WHEEL does EVIL and NASTY things to the sound that was first pioneered on TOXIC FM8 and re-invents Omnisphere to be a complete evil task master with waveforms and distorted resonant sounds like you've never heard come from Omnisphere before.

These are NOT pretty (well a couple are…), these are not TAMED (a comple have some manners), these are NOT patches you take home to MOMMA (well, you could… but I wouldn't risk it)….. These are sounds that will RE-DEFINE HOW you can use Omnisphere. Taking you DEEEEEEP into the world of cutting edge EDM (whatever that is) genres and beyond!
Toxic Omnisphere features
125 EDM patches for Omnisphere.
Includes 52 synth bass, 30 arp + rhythm, 15 synth mono, 11 pads + strings, 8 sfx and noise, 5 synth poly, 4 impact and hits.
4 bonus 320Khz MP3 demo tracks.
The sound library is available exclusively from PlugInGuru for the introductory price of $25 until August 1st, 2014.
More information: PlugInGuru / Toxic Omnisphere