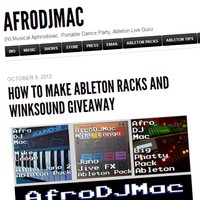 AfroDJMac has announced How to Make Ableton Racks, a tutorial video in collaboration with WinkSound.
Over the summer, I met some of the guys from WinkSound. If you are not familiar with WinkSound, it's a great source for music production tutorials.

We decided it'd be fun to work together, so I made a video on one of my specialties, creating Ableton Live Racks.

The guys from WinkSound did some nice editing and below is the finished product!
To celebrate their partnership, AfroDJMac and WinkSound have teamed up to host a giveaway, in which you can win the following AfroDJMac products:
1 Alpha Juno 2 Ableton Live Instrument Rack
1 Juno Jive FX Instrument Rack
1 Big Phatty Ableton Live Instrument Rack
To enter the giveaway, entrants need to subscribe to WinkSound on YouTube and send them an email with a link to their YouTube profile. The winner will be selected on Monday October 15th, 2012.
More information: AfroDJMac