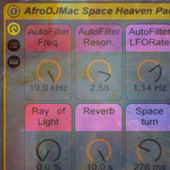 AfroDJMac has released Space Heaven Pad w/Drums, a new download in the weekly free Ableton Live Rack series.
After digging around in my folder of Ableton presets (I keep a separate folder for all my own personally created presets, more on that later in this post), I came across this little gem, made probably over a year ago. It is made with a few layered synths, each one made of different sampled sounds.

In all honesty, I'm not really sure where I got these samples from; whether I downloaded them somewhere, got them from a friend, or made them myself remains a mystery, but the sounds this synth produces is nothing less than heavenly. To me it sounds like being beamed up into the universe and flying through the celestial plains, on my way to heaven. At least, this is what I imagine it would sound like. Check it out and have fun on your intergalactic journeys. Oh, and as a little bonus, I've included a drum rack of some interesting sounds I've processed. So, for this installment of Free Weekly Ableton Live Racks, you get two racks for the price of none!
The Space Heaven Pad for Ableton is a free download for AfroDJMac Facebook fans.
More information: AfroDJMac