Akai Professional has announced that its popular iOS app iMPC, is now also available from the Samsung Galaxy Apps Store.
Developed in concert with Retronyms, a leading iOS and android app developer, iMPC— previously an iOS exclusive—fuses the acclaimed workflow of an Akai Professional MPC (Music Production Center) with cutting-edge tools for composing, editing and mixing music on your Samsung device.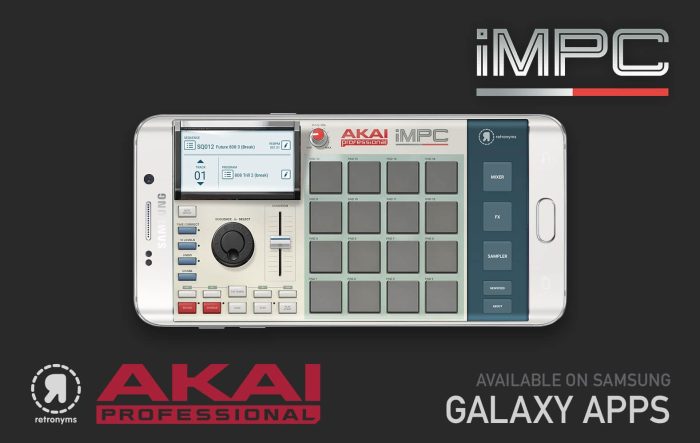 IMPC for Android at launch will be an exclusive to Samsung phones and tablets as an in-app purchase inside Samsung's Soundcamp. Soundcamp is a Digital Audio Workstation app with professional capabilities and an intuitive interface, enabling users to record, edit and mix up to 8 audio/MIDI tracks. There's also a piano roll editor to edit music with pinpoint precision. Akai Professional has worked closely with Samsung to optimise the iMPC experience for the new Galaxy Tab S3 and other popular Galaxy devices.

With more than 1,200 samples, 50 editable programs, 80 editable sequences and iconic MPC workflow, iMPC is the first app to bring all the functionality of a classic Akai Professional MPC to a Samsung Galaxy Android Device. iMPC for Android includes everything needed to create beats quickly and easily, including built-in effects, with the ability to create new sequences and record and overdub beats. Time correction from 1/8 note to 1/32T with variable swing, and Note Repeat from 1/8 note to 1/32T with latch control are also built in. The app's built-in sampler can record samples three different ways: 1) the mic on the Samsung device; 2) the line input; 3) the multi-touch turntable interface in iMPC to record samples directly from other music libraries.

"With the iMPC, users can create and manipulate beats and sequences with amazing precision and creativity," said Dan Gill, Product Manager for Akai Professional. "It's simple to use, and has all the flexibility and options anyone could ever want—and then some."
iMPC for Samsung Galaxy features
More than 1,200 samples, 50 editable programs and 80 editable sequences.
Exclusive iMPC sound set and classic Akai Professional sound library.
Sample from Android mic, line in or music library using multi-touch turntable interface.
16 Levels mode: 16 levels of attack, velocity, length and tuning.
Note Variation slider: adjust attack, velocity, length and tuning as you play.
Trim and categorise samples, undo takes and erase samples.
Built-in effects: delay, bit crusher, master compressor/limiter.
Export your projects for use in the desktop MPC Software or in .wav format.
iMPC is available as an In-App purchase for £5.99 GBP.
More information: Akai Professional