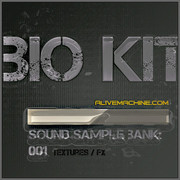 Alive Machine has released the Bio-Kit, a free collection of sound fx samples.
The sounds in Bio-Kit originated as recordings of palm tree leaves being scraped with a stick. These sounds were then transformed through granular synthesis and other effects processing. The included samples were chosen for their unique characteristics, with a focus on the potential for re-sampling.

This release is part of the opening of alivemachine.com, a media-space focused on electronic music, sound design, and audio-visualization.
The Bio-Kit is available as a free download from Alive Machine.
More information: Alive Machine