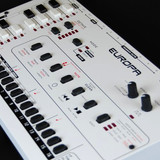 Analogue Solutions has released Europa, a hardware MIDI step sequencer and drum computer.
Europa was designed to be utilised with our SQ8 and Oberkorn analogue sequencers (and anything else with a compatible clock input).

Either use the main sync out or one of the seven trigger outputs to clock your analogue sequencers. Have them step whenever you like by programming triggers into the Europa sequencer. You can have 2 sequencers play alternately. You can mute the track so the Oberkorn/SQ8 sequencer stops! Use another trigger and you can activate the reset feature of the Oberkorn/SQ8!
Europa features
Intuitive and simple programming procedure.
No sub-menus or shift keys – one function per key.
Simple to use – TR808/606 style programming.
Analogue features – analogue tempo clock, 7 analogue trigger outs, analogue sync signals.
Live editing features.
Transpose, Octave shift, Mute.
Rugged steel construction.
Europa is available to purchase for £499 GBP (excl. tax and delivery).
More information: Analogue Solutions / Europa