Arturia has introduced a semi-modular hybrid sequencer synthesizer instrument designed to push the envelope for the modern musician.
MiniBrute 2S takes the vast sound design potential of MiniBrute 2 and supercharges it with an advanced, triple-layered step sequencer. It combines Arturia's legacy of joyful, intuitive sequencers with attitude-packed synthesis, and expands into the blooming world of Eurorack modular with a comprehensive mod matrix patchbay.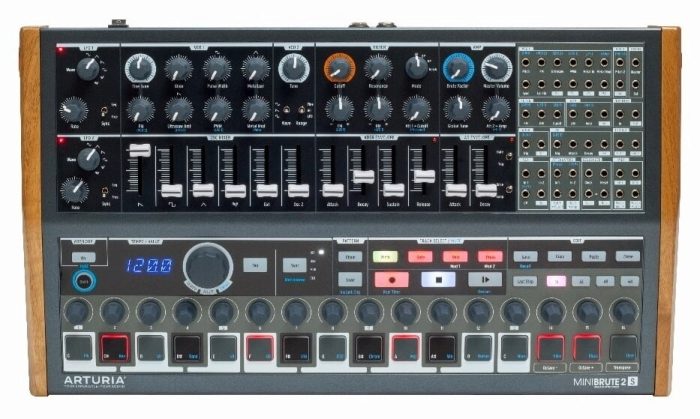 Featuring two of Arturia's legendary Brute oscillators, the classic Steiner-Parker filter, an innovative looping envelope, and hands-on control for every parameter, MiniBrute 2S is a monosynth to be reckoned with. MiniBrute 2S is all about freedom: freedom to create totally unique, inspiring sounds; freedom to build a system that's unique to you; freedom to expand your collection at your own pace.

One of the most exciting aspects of MiniBrute 2S is how perfectly it integrates into modular setups. It features a comprehensive modulation matrix with dozens of sources and destinations, letting you experiment with the instrument's own sound, or hook it up to synth and effect modules. Try out a few sounds from the included Preset Cookbook, hone your synth skills and start patching, expand using your favorite Eurorack modules, the possibilities are endless.

Swapping out a keyboard for velocity and pressure sensitive performance pads, the MiniBrute 2S features a triple-layer, monophonic sequencer that works in the same way as Arturia's award-winning KeyStep controller. You can control your notes with one track, and use the other 2 to sequence parameters like gates, CV, LFOs, and envelopes. You can do this in real-time, or by step-editing.
MiniBrute 2S features
Mixable, multi-waveform VCO1 and VCO2 with sound shapers: Sawtooth, Ultrasaw, Square, Pulse, Triangle, Metalizer, and Sine waves, with fine and coarse tuning modes, noise generator, and external input.
Steiner-Parker multimode filter with beefy, acidic tone, capable of self-oscillation. Featuring low pass, high pass, band pass, notch, and bypass.
ADSR envelope generator, and extra multi-mode, CV-controllable AD filter.
Brute Factor™ adds subtle drive effects to full blown intermodulation havoc.
Comprehensive CV Gate modulation matrix with 48 patch points, letting you control many elements of the synthesizer and sequencer.
Two LFOs with multiple waveforms, able to run in sync with the sequence
Intuitive triple-layer Sequencer and advanced Arpeggiator, syncable with MIDI and USB.
High quality, durable performance pad interface with velocity and pressure sensitivity.
Line out, headphone output, dedicated MIDI I/O and USB connectivity.
More information: Arturia / MiniBrute 2S