Arturia has announced availability of the MicroFreak Vocoder Edition, a limited-time, limited-quantity edition of the MicroFreak, combining the mind-bending Freak hybrid formula with a 16-band Vocoder mode, a gooseneck microphone, and a striking limited edition finish.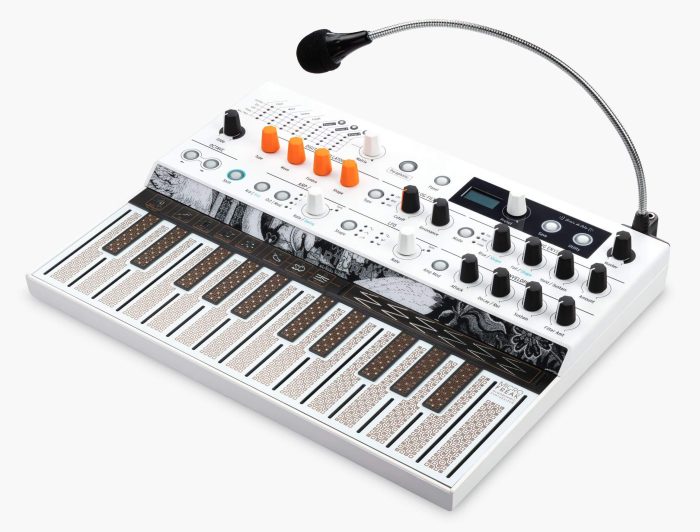 The synthesizer features 14 digital oscillators with variable mode, including Mutable Instruments Plaits engines and a new Vocoder mode.
Sing alongside glistening digital textures. Add paraphonic harmonies to external sound sources. Scatter spoken word across sprawling modulated sequences. This is the uniquely unpredictable MicroFreak formula but not as you know it.
MicroFreak Vocoder Edition features
Limited edition, limitless madness: A new look, a new configuration, a new sound. Let's take a closer look at what makes this exclusive limited-run Freak tick…
Gooseneck microphone: Easily adjustable and removable, the mic connects to the headphone socket, designed to fit snug against MicroFreak's rear connectivity panel.
Limited-edition finish: MicroFreak Vocoder Edition has been given a makeover, featuring a sleek, eye-catching white design with a unique Swan graphic.
New 16-band Vocoder engine: Accurately detect, filter and replicate the complex harmonics of the human voice. Sawtooth, pulse width and noise waveforms, with 16 new presets to boot.
Connect external sound sources: Process an external sound source like a drum machine/synth via the headphone socket for glitchy vocoder sound processing.
The MicroFreak Vocoder Edition is available to purchase at any authorized Arturia dealer while stock last, at a street price of $349 USD / 329 EUR.
Users who already own MicroFreak can update their firmware to V2.1 to unlock the new Vocoder feature, presets and TRRS connectivity. Easily connect a sound source to the headphone socket via 3.5mm or splitter adapter.
More information: Arturia