Audiaire has launched Zone, a unique polyphonic software synthesizer that encourages complex sound design in a musical way, showcasing the beautiful idiosyncrasies seldom seen in digital instruments. Audiaire is a new music creation startup established in 2018 by Sharooz Raoofi, founder of Sample Magic, Attack Magazine, and Sounds to Sample.
Zone allows you to sequence every parameter in its own lane at its own speed. The synth comes with 150+ wavetables, 20 insert FX, 400 presets, a host of filters, extensive macros, modulation matrix and much more.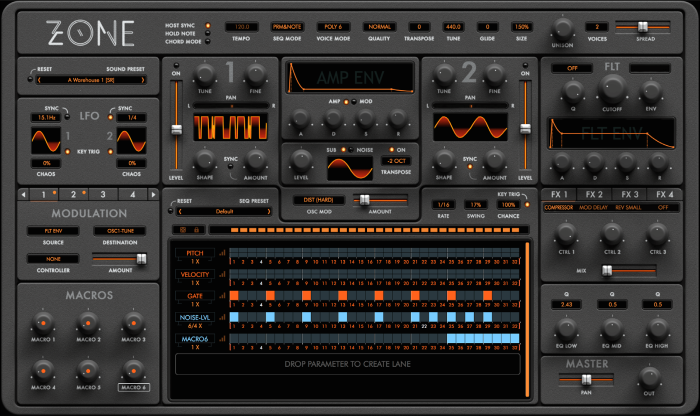 At the heart of Zone is a powerful parameter sequencer that allows virtually every control to be assigned to and modified by its own independent sequencer lane, with unlimited lanes, each running at their own unique rate and number of steps.

Zone can be played in three distinct modes: As a feature rich synth with a host of filters, 151 wavetable oscillators with user import, 20 insert FX, powerful mod matrix and much more. With a 32 step note sequencer – allowing pitch, velocity, gate, probability and +/- swing at a variety of rates. Or with infinite note and parameter sequencer lanes, with complex tools and presets for modifying lane behaviour. The sound generation possibilities are virtually limitless.
Zone features
High-quality analog-modeled oscillators.
151 oscillator types.
Over 400 presets made by some of the world's leading sound designers.
Parameter sequencer with unlimited lanes.
95 global, unipolar, and bipolar parameter sequencer lane presets.
20 insert FX types, including delay, stereo width, chorus, compression, and more.
Multiple LFO waveshapes.
Comb, notch, phaser, circuit-bent, and 'acid' filter types with up to 48dB/octave roll-off.
Modulation matrix with 8 slots and numerous sources.
Fully assignable macros for more control during performance.
Dynamic GUI with one-page editing for a fast and fluid workflow.
Zone is available for 64-bit Windows and Mac in VST, AU and AAX plugin formats.
The synth is available exclusively at Splice's Rent to Own for $9.99 USD/month, with the option to pause rental at any time, and all installments going towards the cost of owning Zone over 14 months.